Wall Street Mostly Higher as Banks Jump on the Fed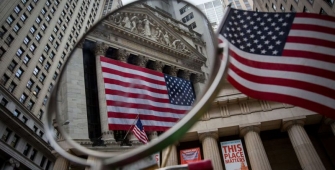 The Dow Jones industrial average and the S&P 500 finished at record peaks while bank stocks soared after the Federal Reserve hinted on another potential rate increase this year and that it will also start the unwinding of its balance sheet in October.
The U.S. central bank announced it will begin next month in rolling off its $4.5 trillion balance sheet, the majority of which consists of the Treasurys and mortgage-backed securities it acquired under a program known as quantitative easing.
The Dow Jones industrial average advanced 0.19 percent to end at a record 22,412.59 as JPMorgan and Goldman Sachs rose.
The S&P 500 was up 0.06 percent to settle at 2,508.24, a fresh record. Industrials and materials shares both notched intraday all-time peaks in the session. The Nasdaq composite dropped 0.08 percent to 6,456.04 with Apple and Microsoft both lower.
Major lenders, which include Bank of America, Citi and PNC Financial Services all advanced over one percent after the Fed's announcement.
The SPDR S&P Bank exchange-traded fund (KBE) traded above its 200-day moving average for the first time since Aug. 16 on an intraday basis.
The energy index's 0.75 percent increase led eight of the 11 major S&P gainers.
The technology index underperformed the most, slipping 0.45 percent, pressured by Apple, Broadcom and Adobe.
Apple shares dropped two percent on reports that the company admitted to connectivity issues with its latest smartwatch. Adobe was down 3.7 percent after the Photoshop maker's revenue forecast came in line with estimates.
General Mills fell around six percent after its quarterly profit fell short of estimates, pulled down by lower sales of its yogurts and cereals in North America.
Western Digital dropped 4.8 percent after Toshiba agreed to sell its semiconductor business to a group led by private equity firm Bain Capital.