Tesla to Recall Model X SUVs over Defective Seats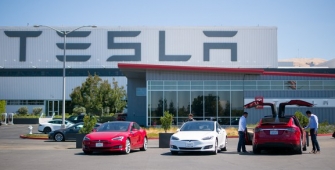 Tesla Inc. announced it will recall 11, 000 Model X sport utility vehicles that were sold around the world due to an issue with the locking mechanism in their rear seats that increase the risk of the seats falling forward in case of a crash.
According to Tesla on Thursday, a minimal number of cables in the second row seats in some Model X cars, which were produced between October 28, 2916 and August 17,2017, may need to be modified to fix the problem.
The firm said that around 3 percent of the 11, 000 to be recalled may have the problem. The issue was discovered during internal testing. So far, no incidents or accidents related to the issue have been reported, according to Tesla.
The recall is not new for Tesla. In 2016, the electric car maker had recalled 2, 700 Model X SUVs in the U.S. in April 2016 due to a locking hinge issue in the seats. Further back, it recalled 90, 000 Model S sedans in 2015 due to a front seat belt assembly defect.
Shares of the carmaker were almost unchanged at $355.64 in late hours trading on Thursday.