Oil Edges up on Indications of Tighter U.S. Market, Strong China Imports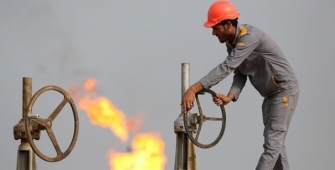 Oil prices received a boost from a decline in both U.S. production and inventories, indications of a market that is tightening. Traders added that the strong Chinese oil imports data also provided support to the markets.
With the OPEC spearheading an initiative to cut production, analysts said that the global oil markets were now more balanced following years of persistent oversupply.
U.S. WTI crude stood at $51.01 per barrel, up 41 cents or 0.8 percent from their last close. Meanwhile the Brent traded at 33 cents or 0.6 percent from its last finish at $56.58.
U.S. crude stockpiles fell 2.7 million barrels in the week to October 6, to 462.22 million barrels, the EIA reported late on Thursday, while crude production fell to 81, 000 bpd to 9.48 million bpd.
Prices were also supported by strong China imports. Between January and September, imports reached 8 million bpd in September, cementing China's position as the world's biggest importer. China's solid appetite for oil has been mainly driven by its buying for its strategic petroleum reserves (SPR).