Gold Stable After Post-Fed Retreat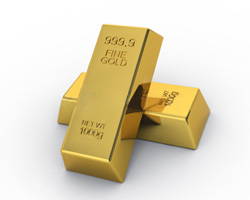 Gold futures were flat Friday, steady after big losses earlier in the week.
Dec. gold was up 0.2 percent to $1294.80/oz. today, having touched a monthly low on Thursdsay.
Data showing weakness in the manufacturing sector conflicted with the Federal Reserve's rosy assessment of the economy on Wednesday.
At 54.6 in September, the seasonally adjusted IHS Markit Flash U.S. Composite PMI Output Index was down slightly from 55.3 in August, data showed today.
"The manufacturing sector, which was already struggling in August, consequently acted as an increasing drag on the economy, leaving services as the main growth driver. The survey is consistent with a slight deterioration in comparable official manufacturing output data," said Chris Williamson,?Chief Business Economist at IHS Markit.
"While repair work in the aftermath of Hurricane Harvey may boost short-term business activity in coming months,?a drop in business optimism about the year ahead suggests that companies have become less confident in the longer-term outlook."
On Wednesday, the Federal Reserve maintained their so-called 'dot plot' of rate projections for this year and next, strongly hinting at a December rate hike.
Also, the Fed said it will begin shrinking its bloated $4.5 trillion portfolio in October by allowing $10 billion in bonds to mature without replacing them.